Xiaomi today unveiled the Xioami Mi Mix 2, a predecessor of their concept phone to the Mi Mix which started the trend of 'border-free' smartphones.
The launch of the Mi Mix was the center stage of the event today which also saw the unveiling of the Mi Note 3, and the Mi Notebook Pro.
I'll get into the Mi Note 3 later, but for now, let's talk about the Xiaomi Mi Mix 2.
Anyway, before I proceed, please note that the phone has just been launched and there's no physical phone available for me to feel and try out, so here's my thought based on what I see in photos, as well as specifications.
XIAOMI MI MIX 2 PHYSICAL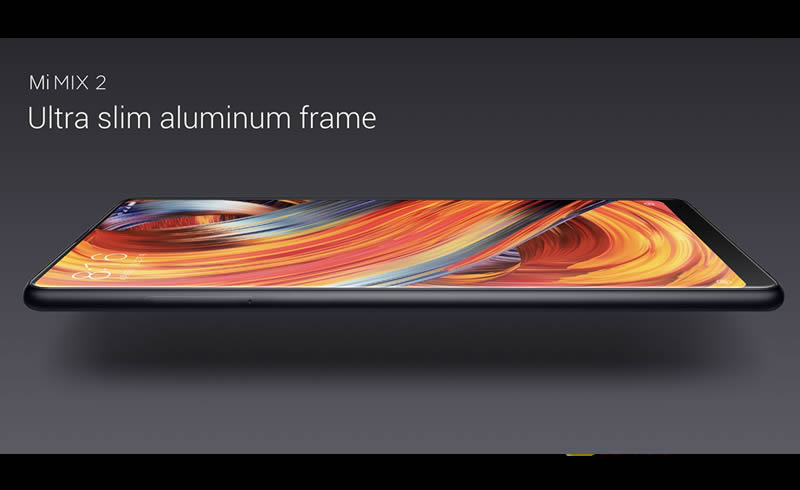 You can't go wrong with a bezel-less smartphone design, and Xiaomi just ensured they remain leaders in designing smartphones with the Mi Mix 2.
Reductions are seen in the bezels, and screen size which is now down to 5.99-inch, much smaller from the 6.4-inch screen of the first generation Mi Mix.  I welcome both reductions  as I never fancied smartphones above 6-inches in size.
The ceramic back of the Mi Mix 2 looks a bit like the Mi 6, but the engravings ensures you don't mistake both.  The placement of the rear camera and the fingerprint scanner look perfect although I am never a fan of fingerprint scanners at the rear.
An ultra thin aluminium frame surrounds the Mi Mix 2 which interestingly does not have a 3.5mm audio jack.
XIAOMI MI MIX 2 SPECIFICATIONS
Snapdragon 835 powers the Mi Mix 2, making it equal to other flagships like the Samsung Galaxy S8.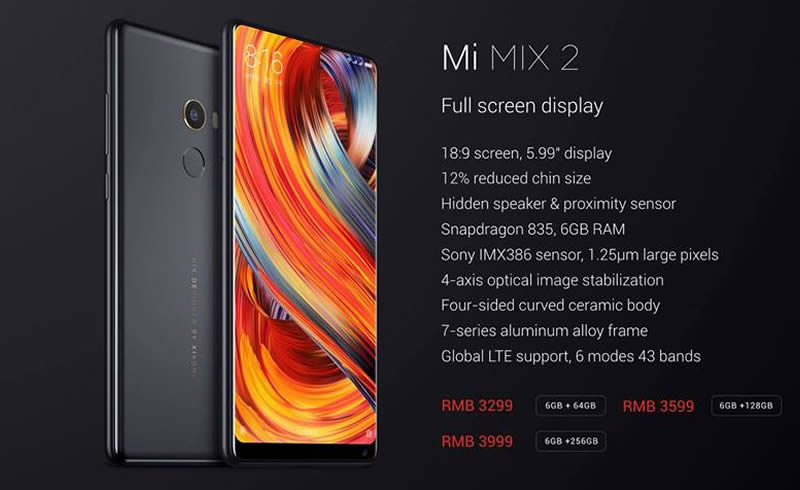 6GB RAM comes with the Mi Mix 2, and other specifications come pretty standard; Bluetooth 7.0, and MIUI 9 atop Android 7.1.1 Nougat.  There's three options for storage space namely 64GB, 128GB and for the space hungry, 256GB.
While the Mi Mix 2 availability worldwide isn't confirmed just yet, the phone does come with global LTE support, allowing it to support 6 modes over 43 bands.  This means you can enjoy LTE worldwide on most networks.
Anyway, there is no doubt that the specifications of the Mi Mix 2 would give any smartphone a run for its money, but there's really nothing that special worth to mention when it comes to the hardware here, expect the fact that it supports global LTE.
XIAOMI MI MIX 2 CAMERA
It is interesting that Xiaomi decided to bend the trend nowadays on the Mi Mix 2 by offering a single lens rear camera.
No doubt the 12MP rear camera comes with a Sony IMX386 sensor, with 1.25μm large pixels 4-axis optical image stabilization, but it is just quite disappointing that the current trend of having two rear cameras is not followed.
Anyway, Sony has one of the best sensors for a camera phone, and I do expect images produced by the 12MP rear camera to be awesome, just like most of Xiaomi's flagship phones, particularly the Mi 6.
XIAOMI MI MIX BATTERY
Xiaomi decided to reduce the battery size for the Mi Mix 2, opting for a 3,400mAh battery instead of the 4,400mAh it used in the first generation Mi Mix.
I am guessing the reduction in size is due to the smaller screen size, and the battery will last for at least 8 hours under normal use.
Well, if it doesn't, than you could always charge it back up as the battery does come with Quick Charge 3.0.
PRICE & AVAILABILITY OF XIAOMI MI MIX 2
A premium smartphone like the Mi Mix 2 wouldn't come cheap, and prices start at RMB3,299 (RM2,099) for the lowest specification version (6GB RAM + 64GB storage space).
For those with extra cash, there's also a premium version which comes with 8GB RAM and 128GB storage spare, and a price of RMB3,999 (RM2,573).
The phone should be available in China soon, and you can expect to buy it online from AliExpress.
However, there's no mention when it will be available in Malaysia though there's unofficial word that it might make its way to places where Xiaomi is officially available.
That said, it's perhaps the best time to get those fingers extra crossed so that it does reach our shores.
LAST THOUGHTS
If you didn't read all the things I wrote above and jumped right to this section, then this hour plus write-up may have been a complete waste.
Anyway, based on what I've seen and read, the Xiaomi Mi Mix 2 looks very promising and, if you haven't noticed, I'm a sucker for bezel-less smartphones and the Mi Mix 2 fits right at home in my eyes.
The reduction in the phone size, as well as the screen size, plus the adaptability of global LTE is something I welcome from the Mi Mix 2.
However, I am also slightly disappointed with the fact that the Mi Mix 2 isn't waterproof and only has one rear camera.  Adding to the disappointment is the missing 3.5mm audio jack, which I personally find important. – phonesentral.com